Little Red Riding Hood.
Curtain opens to a 'Forest scene'. Red Riding appears on stage with a basket and starts to walk towards the front of the stage. Stops. She puts the basket down, turns to talk to the audience.
"Am I or am I not the best girl ever? My poor Granny in bed with a cold and here I am on my way to see her with a basket of goodies to cheer her up."
From behind her, unseen by Red is a wolf. He moves towards her pointing to the audience then at her. His hands mimic her body shape as he holds up a large card on which is written with a hand pointing to her. 'Guess who I'm having for DINNER '
The audience start to shout at Red, she puts her hand to her ear. "What's that you are saying, speak up, I can't hear you!" The audience are shouting at her and waving their hands. " Behind you! Wolf!!"
"What will blind you?"
"Noooo ! Behind you! Wolf!" Seconds pass as the audience screams louder until finally Red turns to let out a gasp as she sees the wolf who throws the card to the side of the stage. Acting innocent?
"What, a fine young lady we have here audience. On her way to Grandma's house, with some delicious treats, are we or are we not proud of Red?" Wolf has the audience engaged with persuading them to agree.
"Yesssssssssssss!!" Indeed we have folks. "I hope I am not talking to a bad wolf, are you a bad wolf?" Wolf looks at audience. "Am I a bad wolf, am I? No! I simply thought, you might like me, to help you carry that basket to your grandmas. "
"Well I'm not sure." Little Red Riding Hood, picks up her basket. The wolf finally persuades her to let him carry it. "I want to make sure you understand wolfie, mess me around and I'll tazer you!"
From behind her she moves a tazer so the audience can see it. "You may carry my basket to Grandma's but only if you behave!"
(Exit stage right . CURTAIN.)
Scene two.
Two wolves are sat on a log in front of some trees, talking.
Enter stage left, a woodsman with a big axe. He sits down behind the trees and he can hear the wolves talking but they don't know he's there.
"So, Wilf gave you the directions to Grandma's cottage?" "Sure did! I'll be there tonight at eight.
Not a minute late as you know me. Oh and I'll have my money, might even run to the liver!"
"Well the last time we were all together you only managed to pay for the tongue and, you forgot the
barbecue sauce for the spare ribs."
"I can't help it, I'm not much good when it comes to removing body parts, you know that!"
They stand up, exit stage right, still talking.
Woodsman stands up walks to the front of the stage, looks out over the audience. "Did you hear that? They're going to Grandma's cottage tonight, buying and selling her body parts? Oh my!
That poor sweet old lady. Do you think I ought to find Red and tell her?"
He encourages audience to scream back .
"Find Red or Grandma's dead!"
(Exit stage left > CURTAIN. )

Scene three.
Curtain opens to show the inside of Grandma's cottage; her bedroom! Several wolves dressed in surgical clothes. One wolf is leaning over the bed on which there appears to be a coffin?
"200 bucks for the liver seems a lot if you ask me! Last time you only charged 100 bucks. "
"Look its 200 bucks so pay up or lose."
"Why Grandma what big teeth you have.." A wolf leans over and lifts out the top half of a set of dentures, holds it up so everyone can see. "You don't make the 100 bucks until you have the other set as well." "Well I think that's mighty unfair, can we split the difference and say 50 bucks?"
Entering stage right and flinging open the door to the room is the Woodsman followed by
Red Riding Hood. The wolves turn to look at them. They see the wolves all dressed and leaning over the coffin as one of them ignores the others, lifts out something holds it up.
"Oh look at that, come on! Am I not to be congratulated? A fabulous piece of surgery if I say so myself.. Grandma! You're all heart!" One of the wolves turns to look at Red. "Ain't that right Red.. Grandma always was generous to a fault!" She pulls out the tazer and tazers him.
He is now on stage leaping about before falling flat on his back. As he recovers, he manages to stand up; she tazers him again. Moving to the front of the stage she looks at the audience.
"I'll give him body parts to worry about. HIS! " The audience are in fits of laughter.
The woodsman chases one of the wolves with his axe around the outside of the room as they move to center stage. "Alright, alright I'll pay another 200 dollars for the liver." Suddenly the sound of a very, well to some; familiar voice. "Whatever is all the noise about. "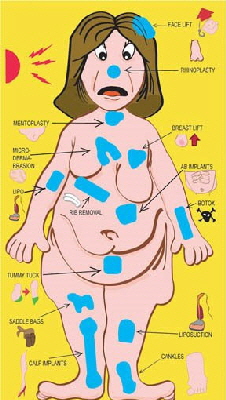 As Red and the woodsman turn around they see Grandma who has entered the room from the right.
"What the?" howls Red as she faints. Its some seconds later before she is sat talking to her Grandma.
"I thought you were dead. They were planning on selling your body parts ! "
"Are you daft girl? " She turns looks at the wolves around the bed. Show her will you?" They lift the coffin to an upright
position. In it is a likeness of her Grandma to a tee..
With plastic shaped body parts in cut out sections.
At the top, a big red nose on Grandma that lights up red and buzzes if they incorrectly attempt to remove any of the pieces.
"We were, NOTE we were!
Enjoying a game of 'Operation Grandma! "